概要
Overview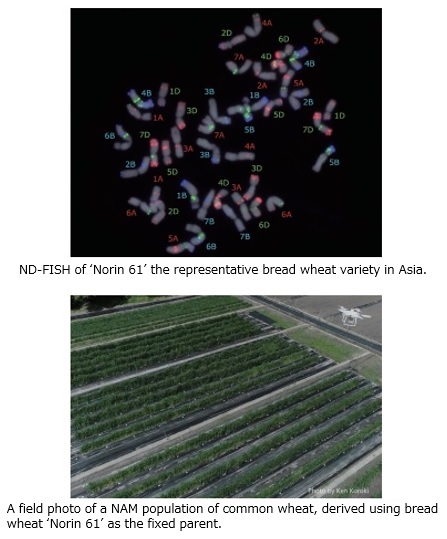 Wheat is one of the world's three major crops. Wheat consists of diploid Einkorn wheat (2n = 14), tetraploid Emmer wheat (2n = 28), and hexaploid common wheat (2n = 42). Bread wheat, which is the most important staple of our diet, is an allohexaploid having three different genomes A, B, and D in one nucleus. The A genome is derived from a wild diploid wheat Triticum urartu, and other two genomes are from related wild weed species in the genus Aegilops. Such complexity of the genomic structure has been a major obstacle to whole genome sequencing of bread wheat. Recently, we successfully completed decoding the genome sequence under the initiative of the International Wheat Genome Sequencing Consortium (IWGSC) (Science 361: eaar7191, 2018). The core facility of NBRP-Wheat, Graduate School of Agriculture, Kyoto University, took part of the IWGSC. We prospect that various molecular studies in wheat will be promoted.
While most gene banks in the world are focusing on collection of modern cultivars of wheat, NBRP-Wheat collects, preserves, propagate, and provides wild relatives and landraces of wheat. With the completion of genome sequencing, the collections of NBRP-Wheat will be more accessible for research activities. We hope NBRP-Wheat an be regarded as one of the centers of global wheat genetic resources. In the 4th phase of NBRP, we will develop new resources and various core collections for genetic analysis. Next, we will make the resource database KOMUGI more attractive by accumulating phenotypic and genotypic data. We have started to collaborate with other gene banks in the world. One of the domestic cooperation is with the National Agriculture and Food Research Organization (NARO) Genebank, which resulted in a cross-sectional data search system (PGR-Gateway).
Available Resources
We mainly supply wild species and landraces of wheat (approx. 6,700) and related species in the Aegilops and Secale genera (approx. 4,200). In addition, we provide experimental strains, including Chinese Spring, a genetic standard cultivar of hexaploid wheat used for determination of the reference genome sequence. The experimental strains (approx. 1,600 lines) include mutants, recombinant inbred lines, chromosome substitution lines, synthetic polyploids, aneuploids, alien chromosome addition/substitution lines, and other genetic strains. We terminated distribution of DNA resources at the end of the 3rd phase.
Subjects in the NBRP programs "Genome information upgrading program" and "Fundamental technology upgrading program" related to "Wheat"
【 Genome information upgrading program 】