Principal Investigator:Toru Ariizumi
FAX:+81-29-853-7734
Sub-Core Facility 1:School of Agriculture, Meiji University
Objectives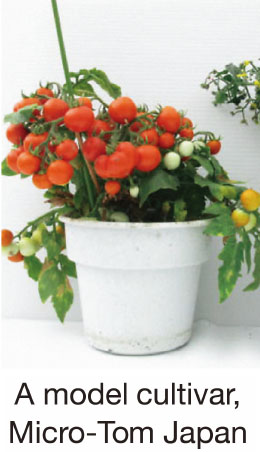 Many Solanaceae family plants are vegetables, and are evolutionarily distant from Arabidopsis thaliana (Brassicaceae family) and Lotus japonicus (Legumiaceae family), which are advanced in resource development and maintenance among dicotyledonous plants. Among Solanaceous plants, tomato is the most widely produced fruit vegetable in the world and contains several functional ingredients that are important for health maintenance. Conversely, the genome size is relatively small (950 Mbp), the genome sequence has been decoded, and it has many features not found in conventional model plants (such as fruit development and neutral photoperiod response). Among these, tomato is also important as a model plant to study Solanaceous plants and fruit development.
At NBRP-Tomato, the core facility, University of Tsukuba and the sub-core facility, Osaka Prefecture University are in charge of collecting, preserving, and providing live resources and DNA clones, respectively. The other sub-facility, Meiji University is in charge of constructing and managing various DNA information databases (TOMATOMICS). The dwarf tomato cultivar Micro-Tom Japan has advantages as an experimental plant (small size, short life cycle, growable with weak light, genome sequence decoded, and Agrobacterium-mediated transformation). In the 4th phase of NBRP, we will prepare resources based on Micro-Tom Japan and its variants, and add genome sequences and trait characteristics information. Through this, we will achieve high quality and strive to further promote resource utilization.
Available Resources
Approximately 2,200 strains, including wild and cultivated strains, T-DNA tag strains of Micro-Tom Japan, and EMS and gamma ray mutagenized strains (including their M3 bulk seed set), are distributed through the TOMATOMA database. Micro-Tom cDNA clones derived from fruits, leaves and roots are distributed through the omics database for tomato TOMATOMICS. The information provided by TOMATOMICS includes sequence information of approximately 36,000 ESTs and approximately 13,000 full-length cDNAs.
Subjects in the NBRP programs "Genome information upgrading program" and "Fundamental technology upgrading program" related to "Tomato"
【 Genome information upgrading program 】