Principal Investigator:Masatsugu Hashiguchi
FAX:+81-985-58-7257
Sub-Core Facility 1:Graduate School of Life Sciences, Tohoku University
概要
Overview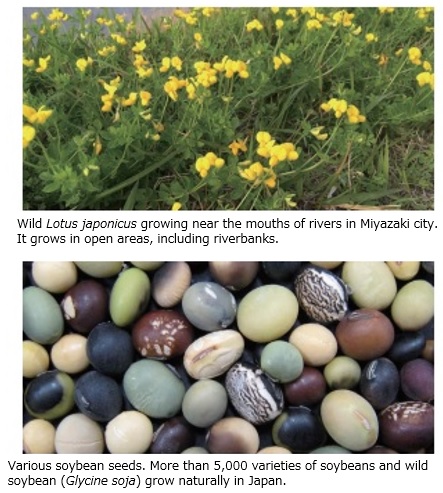 Leguminous plants are extremely important species that inhabit diverse environments from tropical to temperate regions, and are used for various purposes, including food. In addition, they have unique characteristics, such as diversity of seed storage proteins and symbiosis with rhizobia and mycorrhizal fungi that have the ability to fix nitrogen. Japanese trefoil (Lotus japonicus) is a wild perennial legume native to Japan and has a short life cycle (2–3 months). Since the genome sequence of Lotus japonicus was decoded, its use has been rapidly increasing in the field of basic research as a leguminous plant model. Alternatively, soybean (Glycine max) contains several proteins in its seeds, and also has many functional chemical components such as isoflavones, saponins, and proteins (peptides). Therefore, as one of the most important leguminous crop in the world, several basic research studies have been accumulated.
In the 4th phase of NBRP, the Lotus/Glycine core facility in the University of Miyazaki comprehensively collects, maintains, and provides live and DNA resources of Japanese trefoil and soybean. The sub-core facility in Tohoku University is in charge of rebuilding LegumeBase, an integrated database for searching and providing Japanese trefoil and soybean strains. The two institutes coordinate to add characteristic information such as contents of seed components and morphogenesis of each strain, and to provide functional information to users along with high-quality resource maintenance.
Available Resources
We offer approximately 1,500 germplasm accessions of Japanese trefoil (Lotus japonicus), including wild accessions, various experimental strains, retrotransposon tag strains (LORE1), EMS (ethyl methanesulfonate)-induced mutant strains, and EMS-M2 bulk seeds. In addition, approximately 6,700 STM (Signature Tagged Mutagenesis) strains of root nodule bacteria and a root culture system (super root) derived from Lotus corniculatus has been conserved and can be provided. Furthermore, we can provide from our stock of approximately 1,000 soybean cell lines, including the original wild Glycine soja strains and cultivar for green soybean, as well as mutant strains and EMS-M2 bulk seeds. Available DNA resources include BAC and TAC clones (approx. 27,000), cDNA clones (approx. 160,000) in Japanese trefoil, and full-length cDNA clones (approx. 38,000) of soybean. We also offer Japanese trefoil rhizobia DNA-plasmid clones (approx. 4,200) and soybean rhizobia BAC and cosmid clones (approx. 8,700).
Subjects in the NBRP programs "Genome information upgrading program" and "Fundamental technology upgrading program" related to "Lotus / Glycine"
【 Genome information upgrading program 】