概要
Overview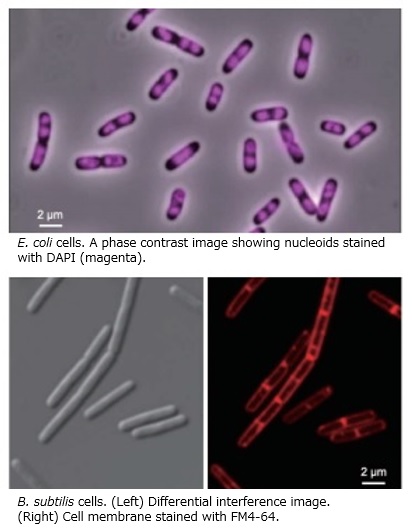 Escherichia coli, a prokaryote, is widely used as a research material. A great deal of biological knowledge and experimental methods related to genetics, biochemistry, and molecular biology is accumulated. Many basic genes common to the biogenic of eukaryotes, including humans, are also conserved in E. coli. Therefore, E. coli is expected to remain an extremely important resource as a model organism for all living organisms. Furthermore, E. coli has another important aspect as a production bacterium at industrial level. Bacillus subtilis is a gram positive soil bacterium. It is an important model organism of prokaryotic cells as it has biological characteristics different from E. coli, which is a gram-negative enteric bacterium. B. subtilis is also used for industrial production of various degradative enzymes.
In NBRP-Prokaryotes, the core facility, National Institute of Genetics collects, preserves, and provides E. coli and B. subtilis resources, phages, and antibodies developed in Japan. The sub-core facility, Kyushu University is in charge of backing up the resources. In the 4th phase of NBRP, information of actual mutation sites in strains and plasmid physical maps will be released to increase the added value of each resource, and information on genes, strains, and gene maps will be integrated to improve the convenience of the database.
Available Resources
The resources being distributed are all non-pathogenic strains, and E. coli and B. subtilis resources are derived from K12 strain and 168 strain, respectively. In E. coli, we provide mutant strains (approx. 15,000 strains, including comprehensive gene deletion strains and transposon-disrupted strains) and gene clones (approx. 19,000 clones with His tag or GFP). We also can provide cloning resources (approx. 470 vectors and approx. 80 host strains), including host strain for iVEC ultra simple cloning (J Bacteriol 201: e00660-18 2019), as well as phages and antibodies. For B. subtilis, following resources can be provided: gene mutation/knock-out strains [approx. 7,200 strains, including a collection of approx. 4000 genes of drug cassette substitution type DNA barcode strains (Cell Syst 4: 291-305.e7, 2017)], chromosomal deletion strains (approx. 350 strains), and gene clones (approx. 4,400 clones).