概要
Overview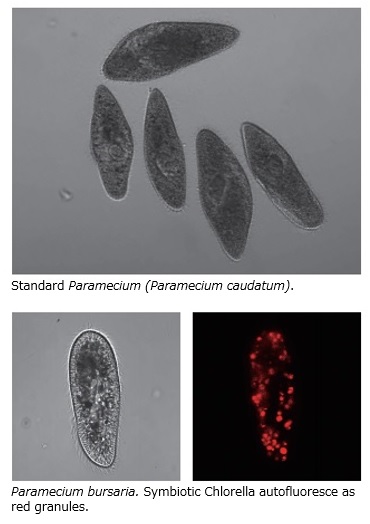 The Paramecium genus is a group of protists belonging to the Ciliophora phylum. They are large (150-300 µm) among unicellular organisms and easy to culture or manipulate under a microscope; therefore, they are used as model organism of eukaryotic cells for various basic researches (such as endosymbiosis, intermediate host of pathogenic bacteria, infection prevention, aging, ciliary movement, binucleation, sexual cell recognition, conjugation, deviated codons, phagocytosis, circadian clock, osmotic pressure control, environmental adaptation, taxis, ion channels, learning, and water purification). In addition, genome sequences of macronuclei (vegetative nuclei) have been decoded in several species (Nature 444: 171-178, 2006; Genetics 197: 1417-1428, 2014), and various genetic approaches have been developed.
Yamaguchi University, the core facility of NBRP-Paramecium, preserves and provides 24 species which are the largest number in the world. In the 4th phase of NBRP, we aim to develop high-quality Paramecium resources that will become an international standard, while providing stable supply through the development of cryopreservation technology and adding each strains' information such as syngen (conjugable isogenic population), mating type (sex), collection site, and phenotypic characteristics. We are also working to disseminate research using Paramecium resources by providing the strains with their endosymbiotic bacteria or algae, and holding exhibitions and technical workshops.
Available Resources
Although more than 50 Paramecium species are stated, only 34 species are still collectable. NBRP-Paramecium has stored 24 species (~900 strains) and is ready to provide 9 of them (~40 strains) immediately. We also accept to consultation on the provision of a variety of monoclonal antibodies against Paramecium species and their endosymbionts. Please consult us regarding the use of these antibodies.
Subjects in the NBRP programs "Genome information upgrading program" and "Fundamental technology upgrading program" related to "Paramecium"
【 Fundamental technology upgrading program 】