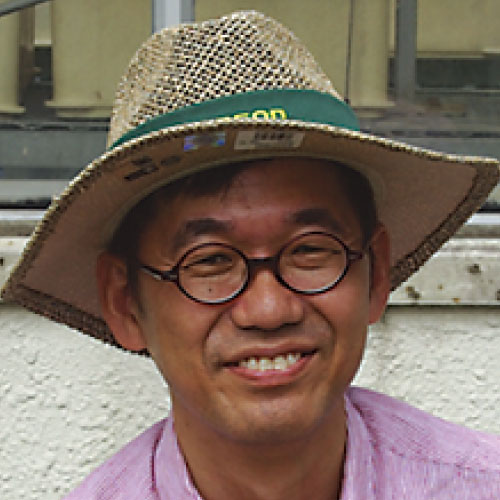 Sub-Core Facility 1:Center for Bioscience Research and Education, Utsunomiya University
Sub-Core Facility 2:Department of Genomics and Evolutionary Biology, National Institute of Genetics
Sub-Core Facility 3 (Backup):Faculty of Regional Innovation, University of Miyazaki
Objectives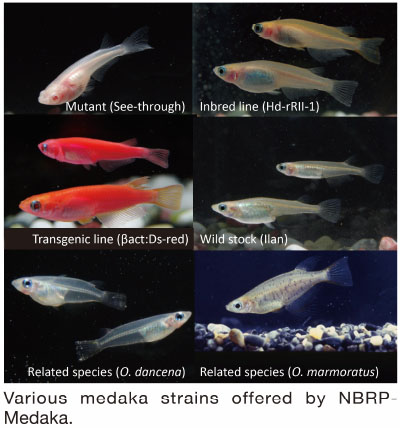 Medaka, which can survive in a wide temperature range (4°C–37°C), has been used for more than 100 years as an experimental animal, and many bioresources have been accumulated by the enormous efforts of the predecessors. Furthermore, related species inhabit various environments such as freshwater or seawater. Using genetically distinct inbred strains and various strains such as wild-derived strains and related species from various regions throughout Southeast to Eastern Asia, we can study evolution in an order of millions to 10 millions of years. Genomic resources such as BAC, Fosmid, or cDNA clones are well maintained along with live resources such as inbred strains, wild stocks, related species, transgenic lines, mutants, etc. The whole genome sequence of three inbred strains is available.
In the 4th phase of NBRP, collection, preservation, and provision of medaka resources are carried out by National Institutes for Basic Biology (NIBB) and Utsunomiya University and the backup preservation of the clone and the frozen sperm is handled by Miyazaki University and the RIKEN. These four institutions/universities will cooperate to provide the world's best medaka resources covering a wide range from primary education to cutting-edge medical and biological research. In addition, NIBB created an environment where any medaka community members can use reverse genetics techniques by providing a TILLING library and a CRISPR–Cas9 genome editing platform.
Available Resources
We preserve and provide more than 6,000 lines, including d-rR strain (males and females can be discriminated with body color), Quintet, STII, STIII lines (transparent body due to lack of most pigment cells), inbred strains (Hd-rR, HNI, Kaga, HSOK, etc.), wild stocks (wild medaka collected from Japan, China and Korea), transgenic lines (osx:mCherry/col10a1:nlGFP osteoblast/ osteoclast visualizing line, GaudiLxBBW and GaudiBBW 2.1 brainbow cassette expression line, FmpoP :RFP-Lifeact bone marrow-derived cell visualization line), closely related medaka species (Celebes medaka, Indian medaka, Javanese medaka etc.), and TILLING lines.
Subjects in the NBRP programs "Genome information upgrading program" and "Fundamental technology upgrading program" related to "Medaka"
【 Genome information upgrading program 】
【 Fundamental technology upgrading program 】