概要
Overview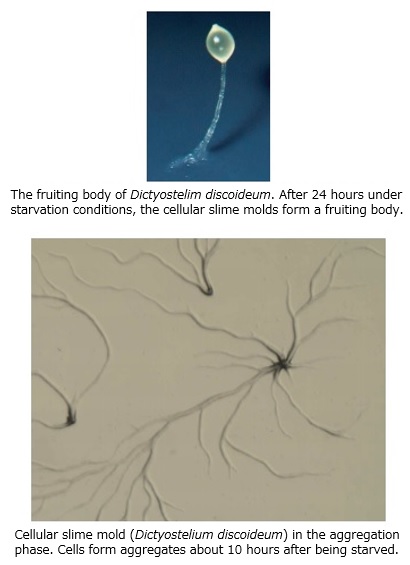 Dictyostelia, known as cellular slime mold, is unicellular amoebae that feed on bacteria and proliferate by fission. One of their key features is that when they are placed under starvation stress, they aggregate to form multicellular structures that develop into fruiting bodies composed of spore balls, or sorus, and supporting stalks (Fig. 1). Experimental strains, such as AX2, can be grown axenically and genetically modified. Their whole genome sequence data and various expression vectors are also available. Therefore, cellular slime molds are used as a model organism in basic science fields such as cell biology, developmental biology, biophysics, and mathematical biology. They are also used in the fields of medical science and drug discovery as infection hosts for pathogenic bacteria and organisms producing useful physiologically active substances. Recently, similar to E. coli and yeasts, cellular slime molds are used as a working platform for molecular biology experiments and as an experimental system for evaluation.
In NBRP-Cellular slime molds, the core facility, RIKEN Center for Biosystems Dynamics Research (BDR) collects, preserves, and provides of strains and DNA resources. The sub-core facility, University of Tsukuba, conducts training courses in addition to the preservation of these resources. In the 4th phase of NBRP, we will develop high-quality resources that become international standards and add characteristic information of each strain. In addition, we are promoting public relations such as displaying actual cellular slime molds and issuing newsletters to increase new users.
Available Resources
We can provide four groups of wild strains (parvisporids · heterostelids · rhizostelids · dictyostelids) and mutant strains (approx. 1,100 strains) mainly of Dictyostelium discoideum. We also provide expression vectors, gene knock-out constructs, and plasmid vectors (approx. 420 clones), including All in one CRISPR-Cas9 vector (Sci Rep 8: 8471, 2018).