概要
Overview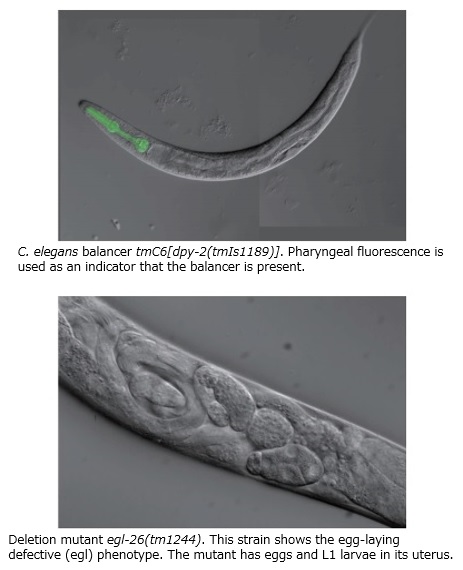 C. elegans, having approximately 1,000 somatic cells, has various tissues that comprise the reproductive system, nervous system, muscle system, and digestive system and are functionally similar to those of higher animals, and cell lineage (path of differentiation from fertilized egg to adult in all cells) has been identified. In addition, the life cycle is approximately 3 days (life span is approximately 3 weeks), and almost 40% of genes encoding approximately 20,000 proteins have similar sequence and function to human genes. In addition, feeding RNA interference is available. Therefore, it is possible to efficiently inhibit gene expression simply by feeding the nematode with bacteria expressing double-stranded RNA that is complementary to the target gene.
In this project, the number of deletion mutants collected and released exceeds 8,000 by the 3rd phase. In the 4th phase, we will continue to find deletion mutants of each gene from the frozen stock of existing random mutants by whole genome sequencing to further expanding the deletion mutant resource. After purification, they are preserved, released, and provided to the applicants. Furthermore, we also provide Cre recombinase transgenic strains that can be used as conditional knock-out tools and are effective for analysis of lethal mutants and fluorescence-labeled balancer strains that have been prepared based on recombination suppression within the same chromosome. These are expected to facilitate genetic analysis of C. elegans.
Available Resources
In addition to wild-type strains, approximately 11,100 various gene-deficient strains, 50 Cre recombinase transgenic strains, and 70 balancer strains are available.
Subjects in the NBRP programs "Genome information upgrading program" and "Fundamental technology upgrading program" related to "C. elegans"
【 Fundamental technology upgrading program 】