Objectives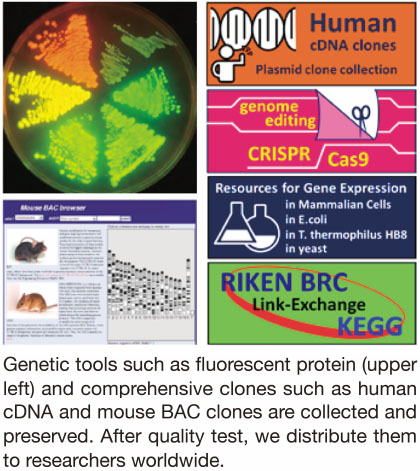 Genetic material such as genomic and cDNA clones of human, animal and microbe origin, and genetic research tools such as genome editing vectors, fluorescent/ luminescent protein genes and viral vectors are one of the most important and fundamental bioresources for the life science. Genetic materials and tools are now widely utilized in numerous life science research fields not only in basic researches such as analyses of gene function and control mechanisms of gene expression but also in applied researches such as development of various therapies and drugs as well as material production.
RIKEN BioResource Research Center (BRC) Gene Engineering Division has been engaging in the collection, preservation, quality control and distribution of cutting-edge genetic materials and tools developed mainly by Japanese researchers. To provide scientific community with genetic materials and tools of the highest quality with assured reproducibility of experimental results, we perform rigorous quality control by testing growth, restriction enzyme mapping and nucleotide sequencing of clones. The Material Transfer Agreement is used for each transfer of genetic materials and tools to protect the intellectual property rights of developers and to define the responsibility of users. We have also opened a path of the academic use of advanced genetic materials and tools such as genome editing vectors and fluorescent/luminescent protein genes owned by commercial entities. Relevant information such as characteristics of bioresources and methodologies are provided via the web of the RIKEN BRC. For the best use of genetic resources, technical seminars and training courses are also given.
Available Resources
Comprehensive libraries such as cDNA clones corresponding to allmost all human genes, EST clones of mouse, common marmoset, clawed frog and ascidians, BAC clones covering almost entire genome of mouse, rat, Japanese macaque and Drosophila, and ORF clones of fission yeast and thermophile T. thermophilus. The clones can be searched in our web site and KEGG (Kyoto Encyclopedia of Genes and Genomes) database. By the collaboration within our center, we provide genomic DNA of microorganisms and mouse strains. Furthermore, we provide cutting-edge genetic tools such as near-infrared luciferase Akaluc, Fucci expression vectors for monitoring cell cycle progression in living cells, organelle markers, knock-in vectors for the regulation technology of protein degradation by the auxin degron method, expression vectors, plasmid clones for genome editing and gene transduction.
Subjects in the NBRP programs "Genome information upgrading program" and "Fundamental technology upgrading program" related to "DNA materials"
【 Fundamental technology upgrading program 】